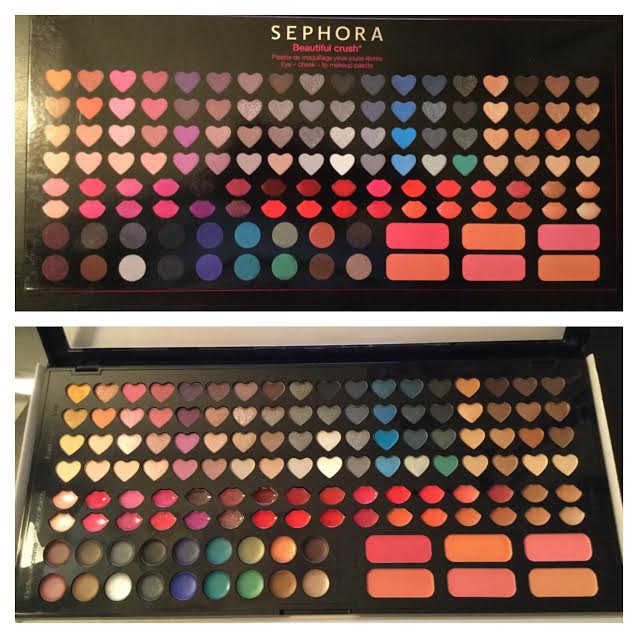 This limited edition +Sephora collection palette costs $38 and contains 72 eyeshadows, 18 cream eyeliners, 32 lip-glosses and six blushes. A total of 128 eye, lip and cheek colours for an infinite number of looks. For more on Sephora's collection you can check out their website here.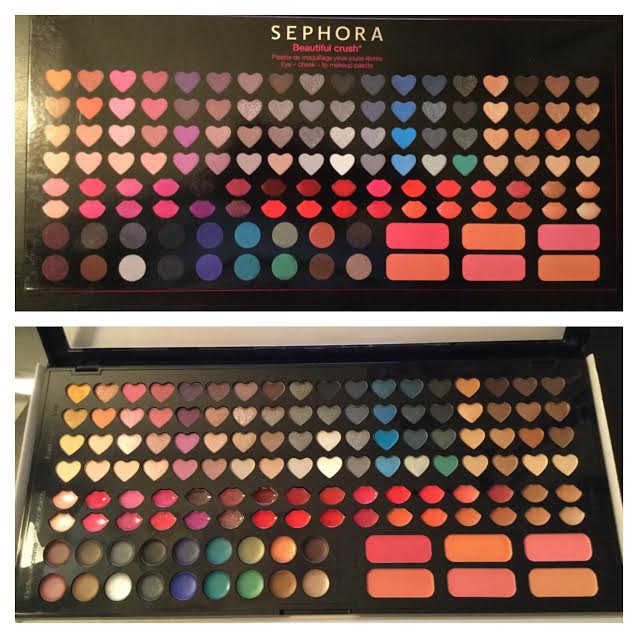 I bought this palette to spoil myself for my 20th birthday and I wanted a palette that had variety for whenever I want to do fantasy makeup looks and for everyday makeup wear as well. I also wanted more for my buck. So, that's why I also wanted this palette. Plus, I've noticed not many people have reviewed this palette. Guess the beauty community hasn't hyped up this palette yet. Or ever will hype it up. I do find it a bit annoying that there are no names on the shades but I can live with that.

***This Sephora Collection Palette was not tested on animals👍***
Blushes:They are extremely pigmented so I had to use a light hand while applying the blushes to my cheeks. The blushes are easy to blend and are quite wearable. All six shades are suitable for any skin tone. I think with how pigmented these blushes are that they would appear on dark skin tones. But I can definitely say that for my pale skin, all these shades look really great and gives a nice touch of colour to my cheekbones. There are three matte shades and three shimmer shades. The blush I've used the most was the orange shimmer shade in the middle of the first row. I never thought I would like a peachy-shimmer blush but it looks really great on me.

Lip-Glosses:Even though there are many shades, there are some that are pigmented but most of them don't have much pigmentation. With the quantity that each gloss contains, you can only wear the lip colour a few times. These glosses are more like a tinted/sheer lip glosses. They are comfortable on the lips and are not too sticky. I wear these glosses when I want just something quick on my lips.

Eyeliners:These cream eyeliners are super creamy and easy to work with. Coming across these eyeliners definitely helped me improve my winged eyeliner game while also helping me learn how to use an angled liner brush. I used to use a thin pencil brush to do my liner. But now? Angled liner brush all the way! Unfortunately, these liners are not very long lasting. At the end of the day I noticed that my eyeliner faded a lot. Plus these eyeliners aren't super pigmented. It's a shame that they're not long-lasting because I really like their consistency but that's life.

Eyeshadows:The main reason I bought this palette was for the eyeshadow options and boy do I love them! Obviously, there are a few colours that I cannot wear for everyday looks but these colorful shadows can be used to create fantasy makeup looks. Otherwise, they're really great for everyday use. These shadows are easy to blend (even the pigmented dark one's!) and are pigmented. I do have to mention that the shimmery shades have more fallout than the other shadows but it's not an excessive amount of fallout. I do use the green and yellow shadows to colour correct which work great! With all these shadows there are so many looks that can be created.
Rating:I am going to give Sephora's collection Beautiful Crush Blockbuster Palette 3 stars on 5. I absolutely love the eyeshadows, blushes and I somewhat like the cream eyeliners but the glosses are blah. Even though I like the cream liners they aren't long lasting and that's an issue. But the shadows and blushes used in the same makeup look make me so happy! I'm pretty happy with this palette and I know I'll be using it a lot.

I hope you guys enjoyed this review. Let me know in the comment section if you have this palette and if there is any other palette that you want me to review. Don't forget to follow my blog 💖